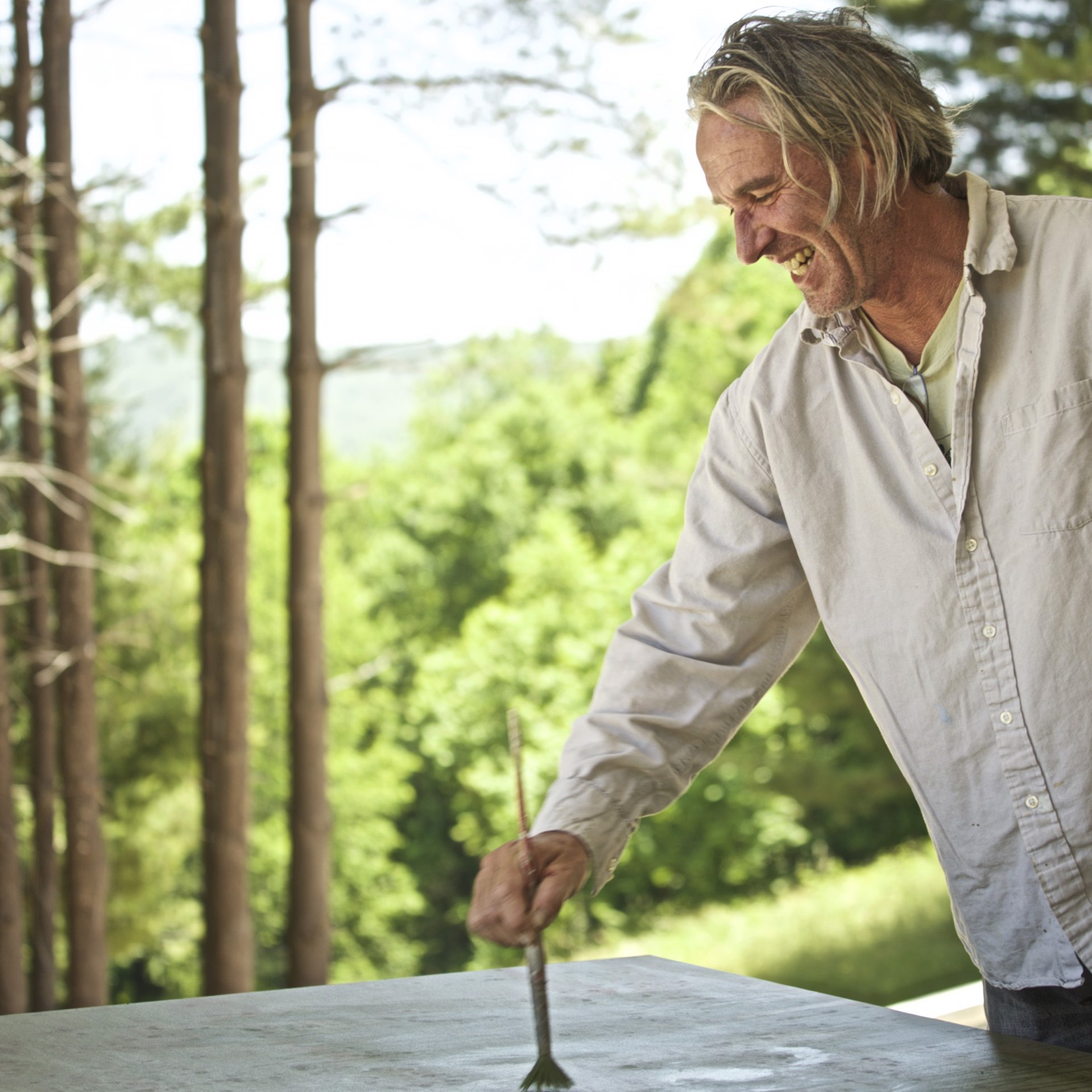 Only very occasionally does a gifted artist emerge who distills a lifetime of experience into his work.
That artist is Stuart Coleman Budd, that lifetime is fascinating, and that work has the truly unique ability to capture a timelessness and calm that defy this age of dizzying acceleration.
Budd grew up in Charlotte, N.C. His dedication to art began as early as kindergarten, when he would often skip recess to finish painting. At Myers Park High School he studied with the iconic Dean Barber, earning scholarships to several schools and eventually selecting Ohio's Columbus College of Art and Design. He later studied at the prestigious School of the Museum of Fine Arts in Boston, and received Bachelor's and Master's degrees in Fine Arts at the University of North Carolina in Chapel Hill and Charlotte.
After school, Budd traveled extensively throughout the United States, including several years of painting in the Virgin Islands. In 2002 he returned to Charlotte to dedicate himself to his artwork. Budd arrives at his painting studio in the morning and works late into the evening, often sleeping on a cot among his work. Decades spent drawing on site in the mountains of Tennessee, Virginia, and North Carolina, provides him the practice, familiarity, and essence needed to recreate his beloved wilderness from memory in the studio. "It is an ethereal thing," Budd says about his work, "more about the way places feel than look."
Of his paintings, one collector wrote, "The work is so subtle…sheered, layered surfaces delicate as moth wings, colored in shades of gray, silver, pewter, cream and gold. They glow but they don't illuminate their own details. Looking at his paintings is like watching the sun come up over the meadow. Beyond that they defy description."
Budd has a background of accomplishment in a variety of artistic subjects and mediums, from watercolor portraiture to architectural renderings. But his true calling is clearly his painted recreations of the natural world. Landscape holds a sacred place in the history of the arts, and Budd pays homage to this tradition while also bringing an entirely fresh approach to the process. His landscapes aren't painted so much as allowed to emerge from a unique application of materials and their manipulation with flame, water, gravity, solvents, sprays, and brushes.
From a conventional vantage point these works have a recognizable appearance as grand representational landscapes, but as the viewer nears the surface, an amazing array of marks, sprays, drips, and textures combine to create a parallel work of abstraction. Not only does Budd tread the line between the two, he exercises such command of his technique that he effectively creates two paintings that succeed and hold intrigue simultaneously.
But mastery of technique is only one partly responsible for the majesty of these landscapes. He has a lifelong relationship with the environment, having spent time hiking the Appalachian trail, painting in the Caribbean, winter-climbing in Montana, and living in the Tennessee mountains. Budd's profound understanding of his subject gives his paintings an intimacy, authenticity, and mystical quality that transcend the quaint or trite work often found in this genre.
An art instructor and fellow student of Budd's from his days studying at The Museum School in Boston, who has followed the artist's career closely, said of Budd, "When it comes to pursuing one's art, focusing one's energy, and living one's life, I have never seen anyone as singularly focused on their work and dedicated to their vision as Stuart. He never pretended, wished, or strived to be an artist … it is his essence, he authentically is one, a truly gifted one."
Read More